On June 3, 2022, Vietnam Report Joint Stock Company (Vietnam Report) officially announced the Top 50 Prestigious and Efficient Public Companies in 2022 (VIX50).
This is the result of an objective, scientific, and independent research of Vietnam Report, officially published in domestic and foreign media. To achieve the list of Top 50 Prestigious and Efficient Public Companies in 2022 (VIX50), Vietnam Report evaluated many public companies including both listed and unlisted through two stages.
In phase 1, Vietnam Report created four separate lists of the 100 largest companies in four indexes: sales, profits, assets, and a market capitalization of at least VND 500 billion. A company needs to be on at least one of the four lists above to be eligible for the rating. In the second stage, the company were evaluated and ranked in the Top 50 Prestigious and Efficient Public Companies. The criteria of prestige and efficiency of public companies are evaluated from the perspective of investors, the market, and experts, based on two main groups:
The size, efficiency, and business prospects of the enterprise are reflected on indicators such as market capitalization, revenue, profit, EPS, ROE, compound growth rate of revenue and profit.
Media reputation of enterprises was assessed by Media Coding method - coding articles on influential media channels on 24 communication criteria of each business.
Additional assessments: growth potential; sustainable development level; management quality, and position in the industry of each public enterprise.
Enterprises in representative industries are honored this year. In particular, Gemadept is honored to represent the port operation and logistics industry in this year's ranking.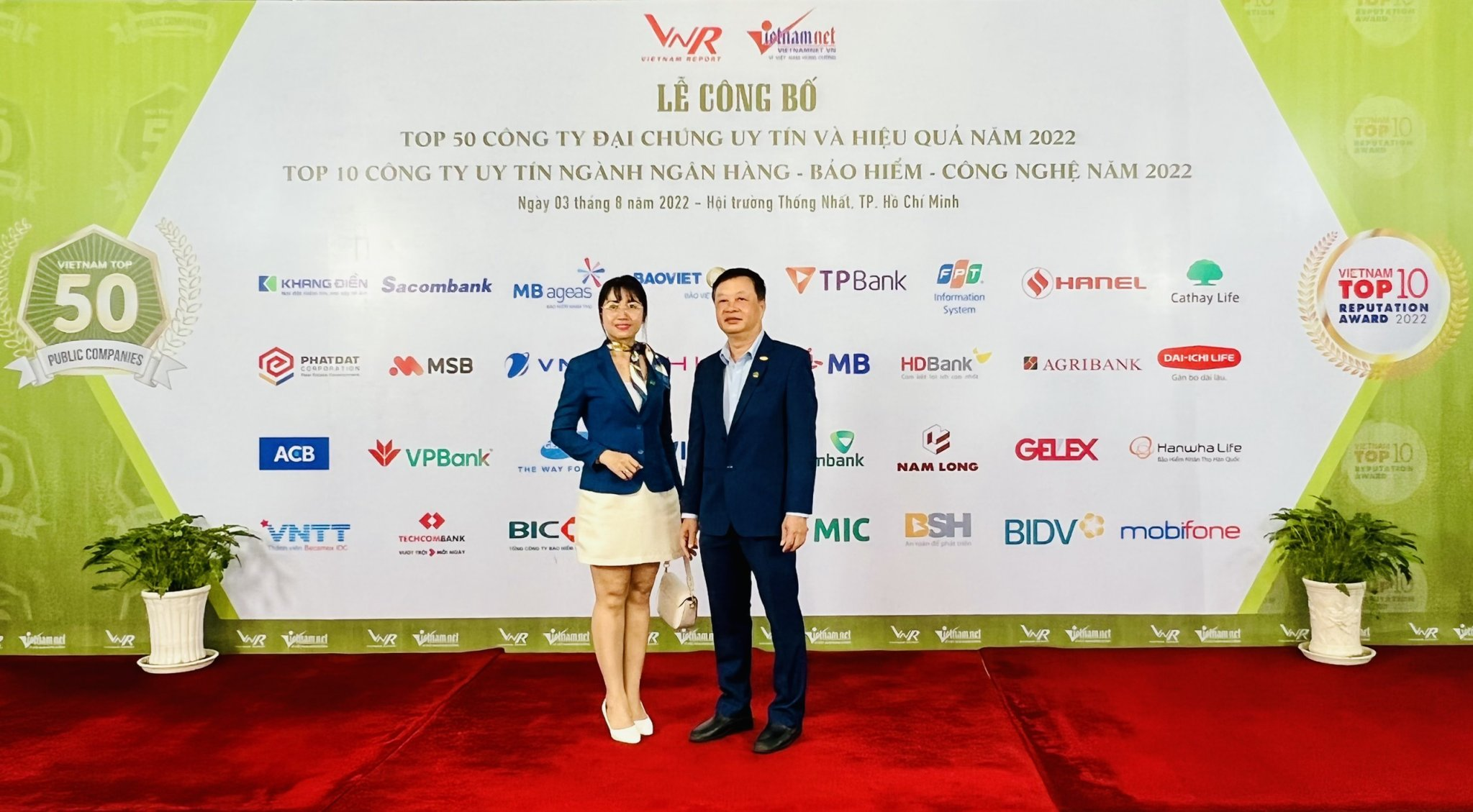 2021 was a historic year when the pandemic broke out across the globe. For the port operation and logistics industry, it has faced unprecedented challenges from severe port congestion, interrupted supply chain, and labor shortage after the Covid-19 pandemic, causing many difficulties and disturbance in business operation and development. With the unity, determination, and flexible business decisions in responding to the pandemic of the Board of Management, with the advantages of having the integrated Port - Logistics ecosystem stretching from North to South, Gemadept, in the year 2021, has achieved great success in business results: 3,206 billion VND in revenue – up by 23% and 721 billion VND in profit after-tax – up by 64% compared to 2020.
Right in Q1/2022, Gemadept recorded a revenue of 880 billion VND, up by 28% and profit before-tax of 350 billion VND, up by 82% over the same period. This is the quarter with the best results for the Company's core business. In addition, Gemadept is one of the few enterprises in the same industry that owns ports with room to increase capacity, notably the two big projects: Gemalink deep-sea Port project in the Cai Mep port cluster (Top 11 most efficient ports in the world according to the report of World Bank) and Nam Dinh Vu project in Hai Phong. When phase 2 of these two ports are completed, the port operation capacity of Gemadept will be doubled, reaching 6 million TEU/year.
More than 32 years of steadfastly pursuing the mission of promoting economic flows, creating added value for the country, businesses and accompanying partners through a chain of outstanding services and solutions, with the same vision to become a The leading corporation in Vietnam in the integrated ecosystem of Ports and Logistics, Gemadept has been and continues to focus on developing the model of green and smart ports through digitizing port operation and logistics processes, and at the same time, focusing on ESG (Environment - Society - Governance) factors, towards sustainable and lasting business development.